September 4, 2023
The 2023 PHIST [Phuket Hotels for Islands Sustaining Tourism] Conference which took
place at the beginning of September in Phuket was by all accounts another great
success reaching more than 1,000 delegates. The programme featured 66 speakers
and 68 exhibitors, 19 workshops and a series of informal sessions hosted by high-
profile proponents of sustainable tourism including Bill Bensley, Shinta Mani Resorts, K
P Ho of Banyan Tree Holdings and Bill Barnett of C9 Hotelworks.
The annual event is a collaborative effort between the Phuket Hotels Association, C9
Hotelworks and Greenview and showcase for a wide range of sustainable tourism
initiatives from food and environment to education.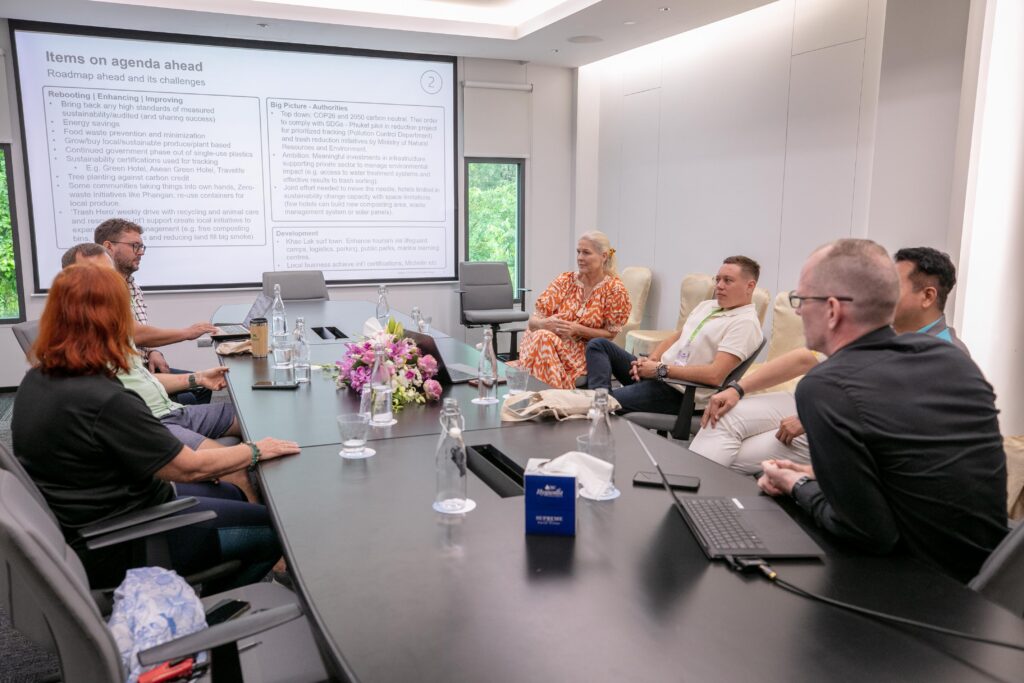 For the first time, SKAL Koh Samui was represented by Marieke Dijkhuis, General
Manager of the award-winning Six Senses Samui. Marieke joined a panel on tourism
along with representatives from the Phuket Hotels Association, Explorar Hotels &
Resorts, Soneva Hotels & Resorts, the Thailand Hotels Association -Southern Chapter
and Phang Nga Tourism Association.
The panel highlighted some of the 'green' practises currently being implemented by
hotels and resorts in Thailand which are having the most impact on their sustainability
agenda. As well as initiatives in the pipeline which are likely to have a major impact
moving forward. 
Areas covered included a focus on the Travel Industry, Recycling and Upcycling, Energy
Saving, Community Initiatives and Wildlife preservation. Of particular concern moving
forward were waste management and plastic reduction, and the need for Government
support in addressing these key issues at source.
Key takeaways from the panel highlighted the fact that sustainability is finally becoming
part of key management and operational strategy for hotels and other businesses and
not just something handed to Marketing and HR. The conversation around ESG has
also developed a greater understanding amongst all stakeholders in the industry from
owners and investors down. It was agreed that more measurement tools are much
needed to ensure the most relevant/impactful initiatives are moving the sustainability
agenda forward.
Commenting on her first PHIST Conference, Marieke said, "Phuket has a large and
burgeoning hotel inventory and tourism industry, it was interesting to learn about some
of the great things they are achieving in sustainable tourism. In Samui where we have a
much smaller hotel community, I can see there is so much that we can be doing to
emulate some of the successes of Phuket and I am looking forward to sharing the main
points of our panel discussion with my colleagues on the island."
See link for a short video of the PHIST day! https://www.youtube.com/watch?v=SI84u7RrSHM