Samui's Santi Wongsawat on a Mission to put the Island's Cuisine on the 'Foodie' Map
REDISCOVERSAMUI ARTICLE | Lynn Grebstad  
Born in Samui, chef Santi Wongsawat – founder and owner of the island's award-winning Phensiri restaurant group – is on a mission to ensure visitors to Thailand's second largest island take away a memorable experience of the extraordinary food for which the island is becoming known.
"I've seen so much change in my lifetime here on the island," says Santi, "traditionally visitors came to Samui for sun, sea and sand, after that it was all about Thai hospitality, meeting local people and discovering the local history and culture, and of course, trying Thailand's spicey and exotic food.
"These days, travellers everywhere have become much more focused on food experiences as part of their travels, seeking out the exceptional restaurant or local speciality dish to share with their friends on Instagram, and learning more about the provenance of the dishes, the ingredients, and the "stories" behind what they eat."
Before tourism arrived, Koh Samui was a sleepy tropical island whose people worked as fishermen, coconut planters and farmers, living a quiet and harmonious life. As the population and popularity of the island has grown, local people have taken the knowledge and cooking of their own homes to the island's resorts, restaurants and food markets, to make their living.
Surrounded by the bountiful seas of the Gulf of Siam, fresh fish and seafood are the predominant protein in the local cooking, as are coconut milk, chili and lemongrass. The island also has indigenous ingredients including herbs and spices such as the local peppercorns, as well as vegetables such as the delicious Mahindjo leaves which are quite specific to the island.
"Many visitors think that Phuket food is the same as Samui's but although similar, it's not exactly the same." says Santi, "Cuisines evolve around the nature's surroundings, as well as cultural influences, and it's the historic Chinese community that gives Phuket food a lot of its tastes and textures. Samui's cuisine on the other hand, reflects more SE Asian and Malaysian influences."
"It is Samui's distinctive indigenous cuisine derived of the many special ingredients available on the island that I want to promote to our visitors."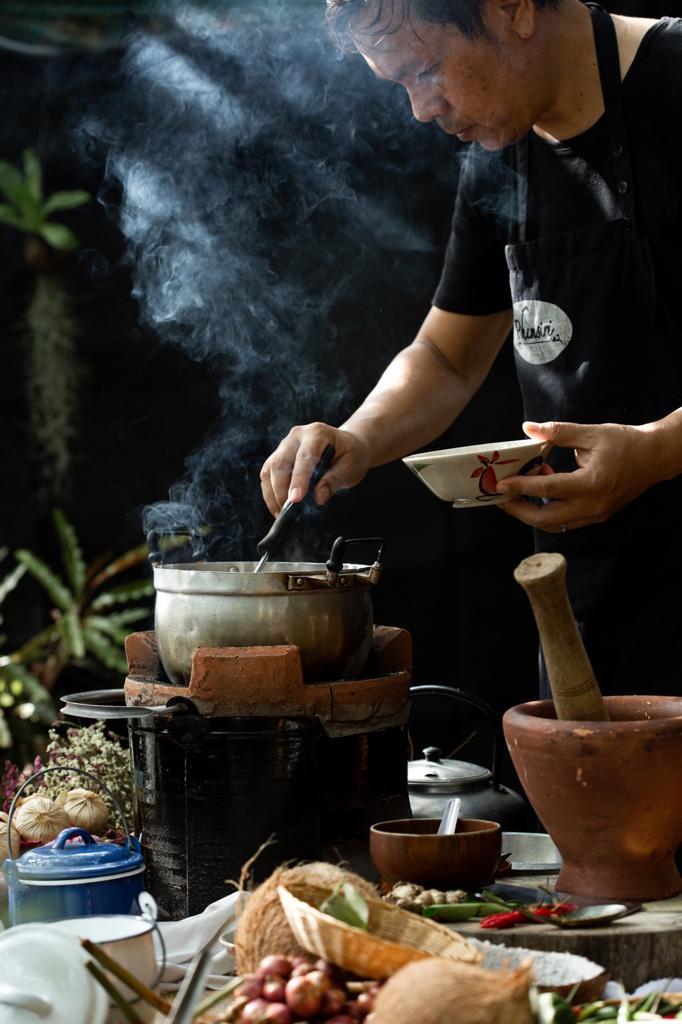 "After Covid my idea is clear," says Santi, "I see a real opportunity to develop knowledge and appreciation of Samui's cuisine. Today's visitors are searching for something more, a cultural experience such as the local cuisine, finding the best places to taste the 'real' local food, just like the local people eat."
"The problem with a lot of local restaurants, they don't speak English and don't have the menu in English, most visitors won't find these traditional restaurants, so we must encourage local establishments to be more inclusive and accessible. I also want to encourage the hotels and restaurants to introduce specific Samui specialties to their menus to raise the profile of local food."
"At Phensiri, we offer a special menu of dishes which represents the real Samui cuisine. Our 'Samui's Lost Recipes ' menu invites our customers to try dishes such as Bai Liang Phad Kai – a delicious local dish made from Malindjo leaves fried with egg and shrimp paste. Visitors who come down to Samui from Bangkok seek out this local dish which you won't find anywhere else in Thailand."
Other Samui specialties include the Moo Phad Kui – shrimp paste fried with pork, Gang Baila Pla Yang – grilled fish in red curry with holy basil leaf, Kati Huaplee Pla Yang – banana blossom in coconut milk soup, Hoop Hed – grilled mushrooms with curry paste and Gung kapi sator – stir-fried shrimps with shrimp paste and Sator.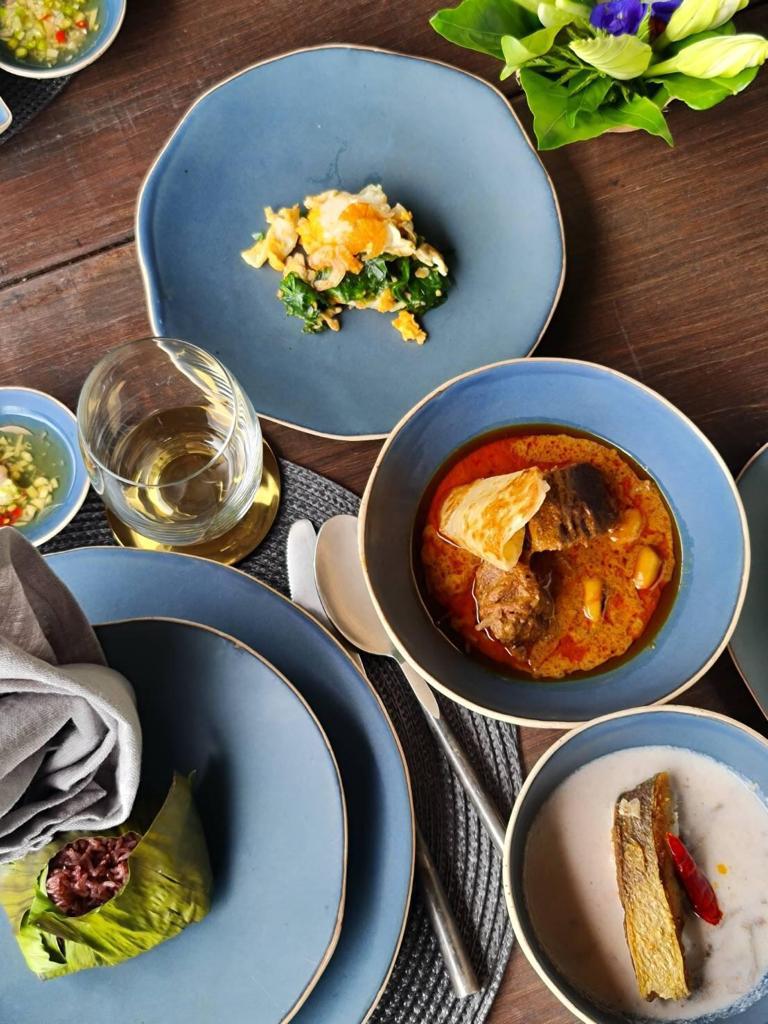 "My plan is work with local hotels and restaurants to feature a small selection of local Samui dishes to their Thai menus and highlight the fact that these are local specialties specific to the island with a story behind the origin of each. A sign at the front of the hotel or restaurant will indicate that Samui-style Thai food is available here." says Santi.
This campaign 'A True Taste of Samui' would be promoted through our local and international tourism campaigns, by the individual establishments via their own PR and social media.
Everyone wins, the local fishermen and farmers, the restaurants and hotels, and our visitors who will enjoy a very special experience of our beautiful island and its history.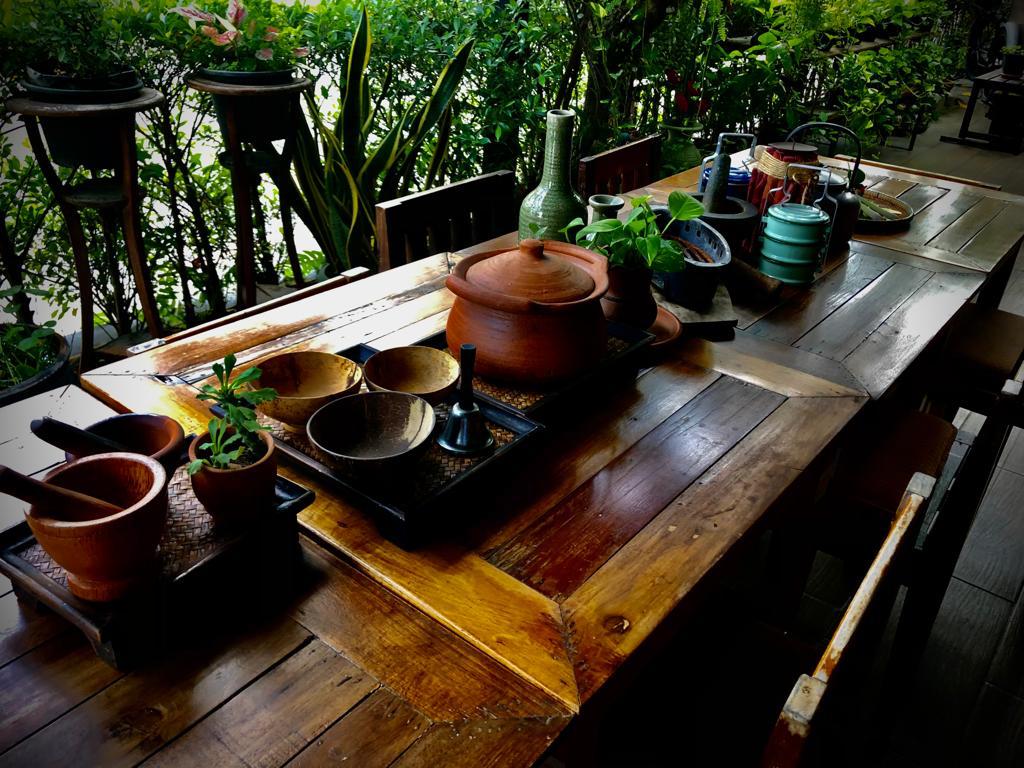 ***
https://phensiricuisine.business.site/
https://www.facebook.com/PhensiriKohSamui/
#samuilostrecipes #rediscoversamui #phensirifoodcatering