With just two weeks to go before some of the world's finest jazz musicians arrive on the island for the Samui Summer Jazz Festival 2023' from May 2-7 featuring 6 nightly concerts, we offer a venue guide to those trying to decide which concert or concerts are for them:
MAY 2 | W Koh Samui "Swinging jazz classics from the golden age of jazz"
'NEW YORK GRAND CLASSICS OF SWING ORCHESTRA' ft vocalists Anna Serierse and Bas Toscani kicks-off the festival with one of the hottest jazz productions currently on the international circuit. Fans of the big band sound of the 20's and 30's will love this jazz spectacular showcasing New York's renowned Broadway clubs in the golden age of jazz.
Doors open at 6pm, show starts at 8pm. Nightclub-style with informal lounge seating
MAY 3 | Hansar Samui "Hot Brazilian beats, blues and bossa nova"
LUCAS SANTANA AND HIS BAND – a shining new star on the international jazz scene recently thrilled Samui audiences with a preview concert which showcased his mastery of the sax and his diverse range of musical styles from jazz, blues and Bossa nova to soul, with his Brazilian roots shining through on all levels. This is feelgood music at its absolute best.
Doors open at 6pm, show starts at 8pm. Sit-down dinner or casual cocktail-style.
MAY 3 | Secret Garden Resort "Jamming with the Samui Jazz Brothers on the beach"
The jazz moves along the beach for an informal Jam Session of top-notch Dutch jazz featuring jazz, soul and Latino music. Opening the session will be Rolf Delfos, Susanne Alt and young talent, Sebastiaan van Bavel who will be joined on stage by Thailand's top jazz musicians.
Session starts at 10pm until late. No ticketing.
MAY 4 | SEEN Beach Club Samui, Chaweng "A high-energy night of jazz, soul and funk to get everyone on their feet."
SVEN ROZIER QUINTET ft. Lizzy Ossevoort and Susanne ALT DJ & Sax will team up at Samui's coolest beach club to entertain the crowd with a sensational pulsing programme of jazz, soul and funk in a fantastic opportunity to hear three of the jazz scene's leading proponents of these popular musical genres.
Doors open at 6pm, show starts at 8pm. Casual cocktail-style with pizza, pasta, burger menu.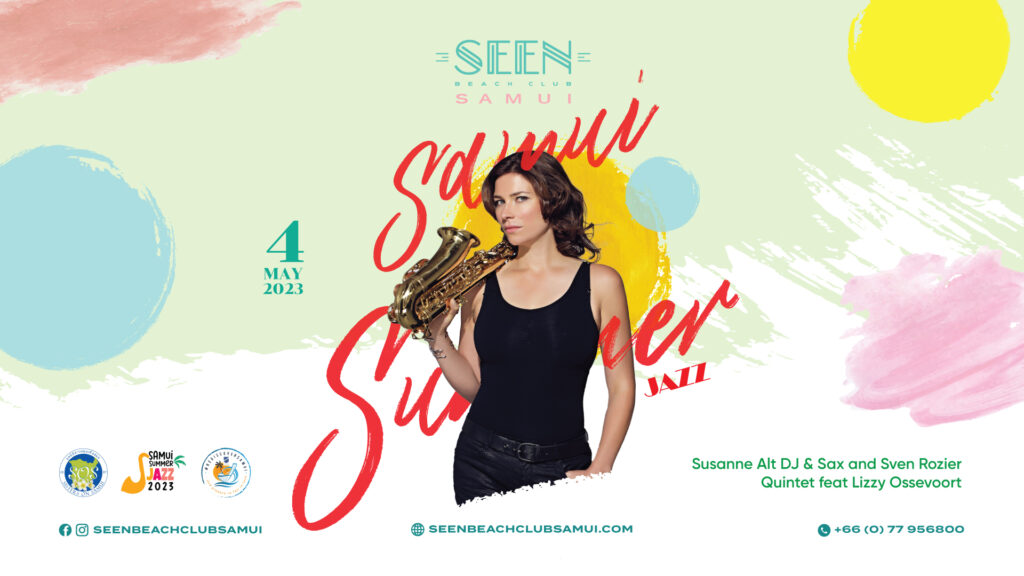 MAY 5 | Six Senses Koh Samui "Soulful vocals and dynamic jazz with a shot of blues, swing and soul"
BAER TRAA QUINTET ft Rolf Delfos and Ellister van der Molen will be at Samui's multi-award-winning resort for an evening with celebrated Dutch jazz vocalist Baer Traa and his musicians who will host a superb evening of jazz. Expect soulful vocals and tight harmonies with an extra layer of richness and depth, making for a truly engaging listening experience.

Doors open at 6 pm, show starts at 8 pm Sit-down dinner or casual cocktail-style.
MAY 6 | Santiburi Koh Samui "Smooth, cool jazz from the cream of Thailand's jazz Scene, under the stars"
KOH MR. SAXMAN AND THE TAKESHI BAND featuring the best of Thailand's own vibrant jazz scene led by festival creative director, Koh Mr. Saxman and featuring Sebastiaan van Bavel and Marius Beets all in concert at this stunning beachside location.
Doors open at 6pm, show starts at 8 pm. Sit-down dinner with BBQ buffet or casual cocktail-style.
MAY 7 | Centara Reserve Koh Samui "Tenor sax supremo Alexander Beets leads his festival musicians in a fantastic afternoon jazz fest".
ALEXANDER BEETS – festival director, will lead his musicians in a sensational afternoon of jazz with special guest, jazz vocalist Zosja El Rhazi who infuses soulful, bluesy melodies with her own powerful delivery. This Grande Finale is part of the Centara Reserve Koh Samui 'Weekend Sunday Brunch' when guests can expect an amazing atmosphere and an afternoon of memorable jazz entertainment overlooking Samui's stunning Chaweng Beach.
Doors open at 12 noon, show starts at 1pm. Full-grazing buffet brunch or casual lounge area.
Tickets available through: Megatix – Summer Samui Jazz 2023
Tickets are priced at THB 1,000 for ticket entry only + a welcome drink OR THB 2,500 including welcome drink and dinner [either sit-down or grazing buffet] and THB 2,950 for the Sunday Brunch.
SKÅL International Koh Samui, its charity partner Sisters on Samui [SOS], and main sponsors Conrad Properties International Ltd, Brother, Bangkok Hospital Samui, Bangkok Airways, is also supported by Oceana Boat Charter and Golden Moon Travel in presenting the Samui Summer Jazz Festival 2023. The festival relaunched last year to sell-out audiences and contributed to the SOS Samui Children's Education Fund.
For more information about the Samui Summer Jazz 2023 program, performers, ticket reservation and all other aspects of the festival, visit: www.samuisummerjazz.com
Email: samuisummerjazz@gmail.com
Phone : +66 (0)809357373
Facebook: SamuiSummerJazz
Instagram: SamuiSummerJazz